Northern Trip
2 September 2005 - Friday
---
The beach house we stayed in was extremely fancy, and right on Lake Huron. We slept in for the first time on the trip, and then got up and walked along the beach. Here I am rolling up my cuffs so my pant legs won't get wet and sandy: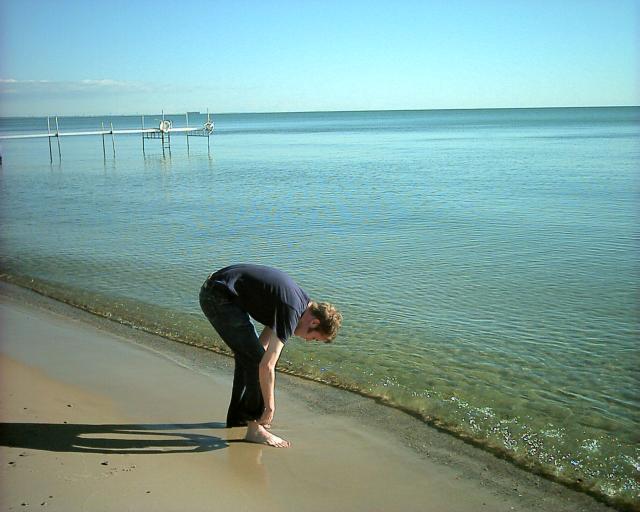 We then left for the final major leg of our journey.

0 Miles - Left Tawas City Michigan

We drove down US-23 and then rejoined I-75. There was a lot of northbound vacation traffic as it was the beginning of Labor Day weekend. We stopped in Saginaw to visit the nice people who let us use their lake house.

We stayed a few hours, but then pressed on. People had been giving us dire warnings about how backed up customs getting into Canada can get, especially on a holiday weekend. So we drove out I-69 to Port Huron MI. Gas prices were high, we didn't realize at the time that it was because of the hurricane and not because of random geographic fluctuations.

We got to the border, and there was at most a 10 minute wait to get into Canada. We just said we were driving on to NY, so they let us in.

187 Miles - Arrive Ontario, Canada

We took 402 toward London, but then got off on 4 and then 3 to try to see Lake Erie. The road was torn up, to the bare dirt, for construction. And our turnoff wasn't marked in Aylmer. So we took the scenic route. Canada is surprisingly flat in this area, and filled with Mennonites and Tobacco farms.




We eventually ended up at Port Bruce Provincial Park. We walked along Lake Erie which was muddy and churned up from the Hurricane Katrina remains which had recently passed through.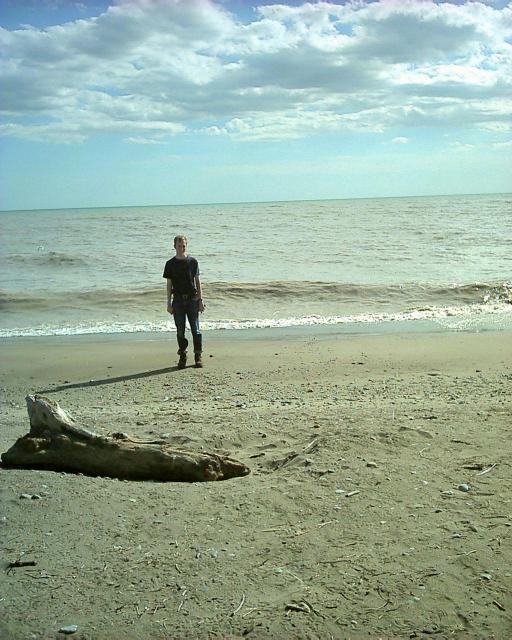 After walking along the shore, we got ice cream. Luckily I had $5 Canadian in my wallet left over from my Ottawa Trip the previous year.

We found our way back to 401, then to 403 and through Hamilton ON which was extremely busy. All of these roads were clogged with people, many with US plates, going well over the 100km/h limit.

We got on the QEW and saw the last of the Great Lakes, Ontario. We felt no need to stop (even if such a stop were possible) because Ontario was the one Great Lake I had actually seen before prior to this trip.



We got to customs at the Whirlpool Bridge, and were waved through with barely any questions after at most a 5 minute wait. So all the horror stories of long waits were unfounded, at least for our particular trip.

710 Kilometers - Arrive New York

We then went to Kristina's grandparent's former house, which is outside of Buffalo NY. The majority of our journey was over, and her parents got in later that night.

455 Miles - Arrived East Amherst NY
---
Day 7 - 455 Miles Traveled, 3778 Miles Total
---
---
Back to main trip page