Vince's Trans-continental Trip
23 May 2005 - Monday
---

0 Miles - Left Carson City, Nevada
We took US-50 South towards California. Yes, we were near the "Sacremento 3073 Miles" destination seen on the highway sign on US-50 in Ocean City MD.

The road runs along Lake Tahoe.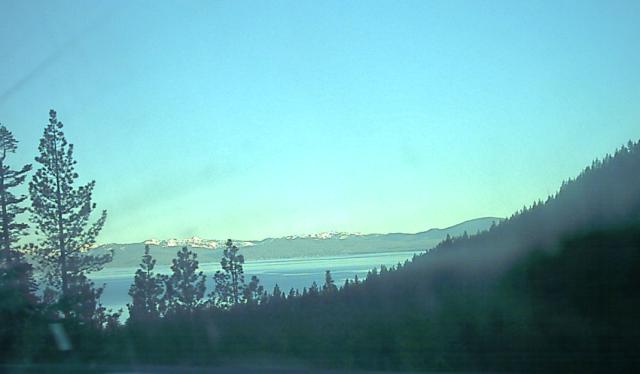 And finally, after so many miles, we arrived in California. The inspection station was closed so we just drove straight in.

24 Miles - Arrived California
We had made better time thank Kristina expected, so we decided to go to Yosemite National Park.

We were still up in the Sierra Nevada, so getting to Yosemite was non-trivial. Especially as the obvious route to the West entrance was still closed due to snow.

We drove until we got to the well-named California route 49, the road that travels along the mother lode where so many mining towns were built by the miner 49ers. We got onto the road just 8 miles south of Sutter's Mill where gold was first discovered.

We got on 49 in Placerville, and soon immediately drove up a steep hill. Unlike the long windy mountain roads out West, the ones in California are heavily populated and full of traffic.

We drove through Calaveras County, where Mark Twain lived for a while. We drove through Angels Camp, site of Twain's first major published story, The Celebrated Jumping Frog of Calaveras County.

We picked up California Route 120, which made an amazingly steep climb up a giant hill. Thankfully we reached the top, and made our way to Yosemite.

Yosemite was extremely busy considering it was a Monday morning in mid-May. It was crowded and there was hardly any parking, and road construction made things worse.

Here is a view from the first pull-off in the Yosemite valley. In the distance you can see Bridal Veil Falls; the river in the foreground is the Merced.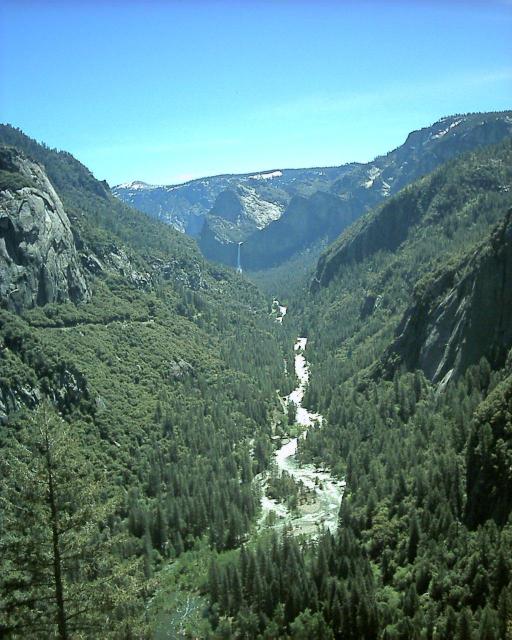 We drove through an impressively long tunnel, and then on the other side was a waterfall, Cascade Falls.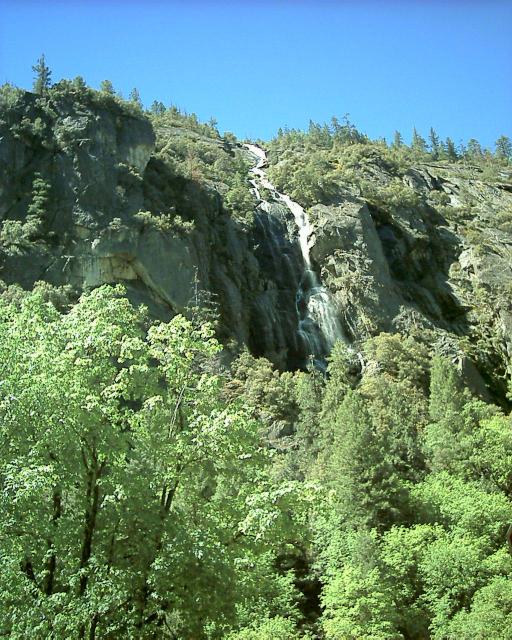 We drove on, until we got to the base of Bridal Veil Falls. The edges of the parking lot were flooded; the streams were all so full as to be overflowing. Here is a closer view of the falls:



You could walk closer, but not to the base. There was so much water coming over the falls you got soaked just approaching it, and the path turned into a raging torrent the closer you got.

Here is El Capitan, the famous giant granite formation. You can climb to the top of a lot of these giant rocks, but Kristina and I did not have the time.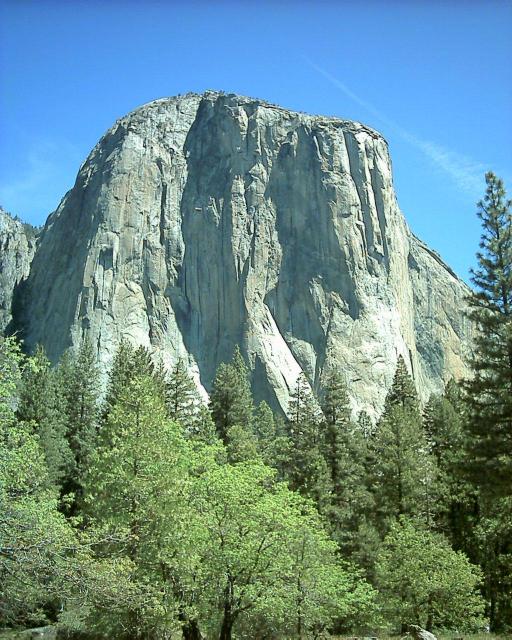 Here is Yosemite Falls, the highest waterfall in North America and the 6th highest in the world.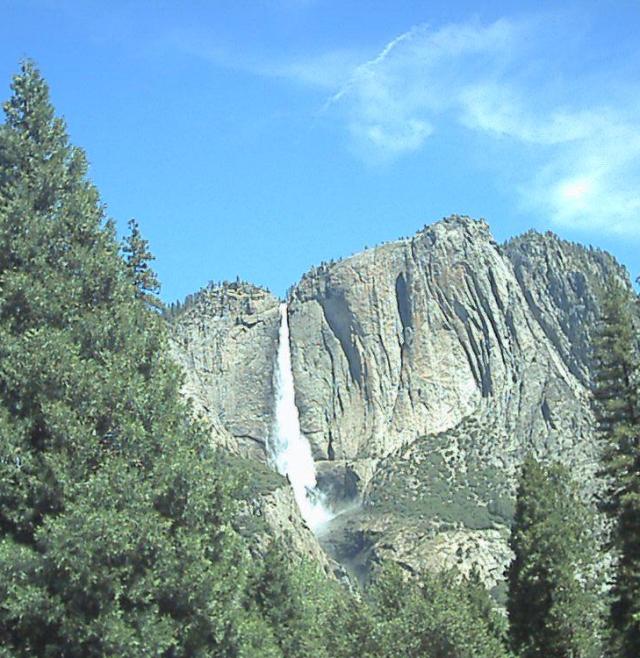 Kristina and I parked and caught the shuttle bus over to the visitor center. We then walked to see the lower part of Yosemite Falls. There was a beautiful forest in the area, sadly my pictures of it did not turn out. Here are the lower falls.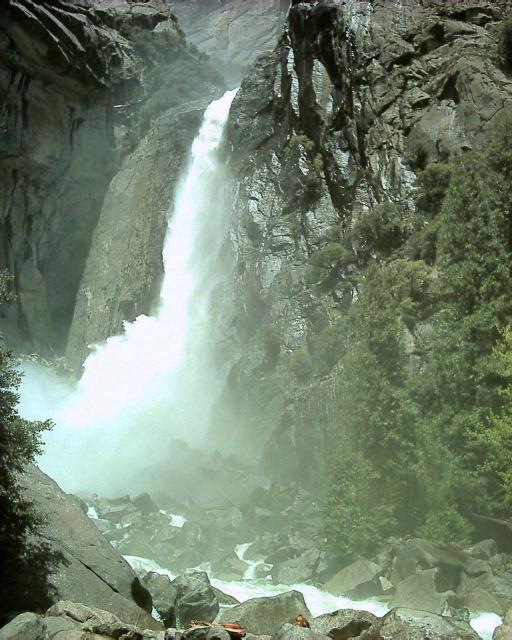 We then rushed back to the car, as it was extremely warm and sunny out and poor Susie was left in the car. She was fine, but we moved the car to the shade so we wouldn't have to worry about her.

Here is Halfdome, another famous rock formation at Yosemite: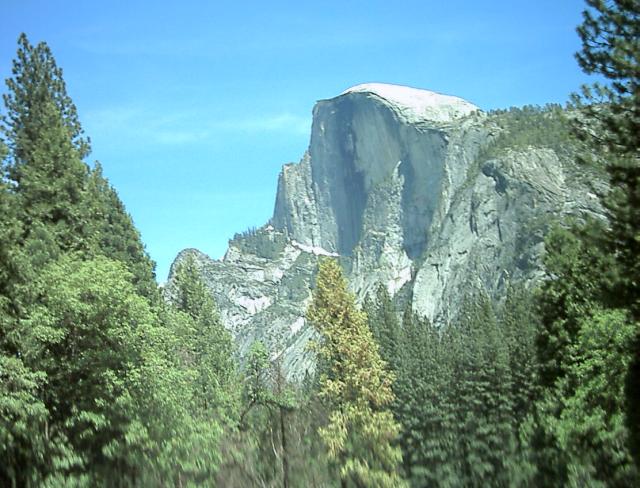 We then walked up a trail to see the Mirror Lake (called Kheled-zâram by the dwarves). You can see why it is called the Mirror Lake, because this time of year this is what the view is like: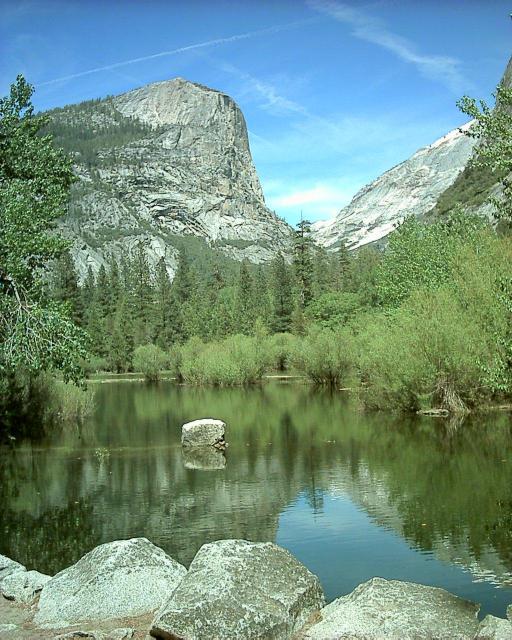 After hiking around a bit Kristina and I returned to the car, and then drove towards the Southern entrance to Yosemite, at Wawona. The road to Wawona is exciting and mountainous, but we made it safely. We then went to the Mariposa Sequoia grove there.

The Sequoias are not quite as tall as Redwoods, but they are much more massive. For example, here is the one called the Grizzly Giant: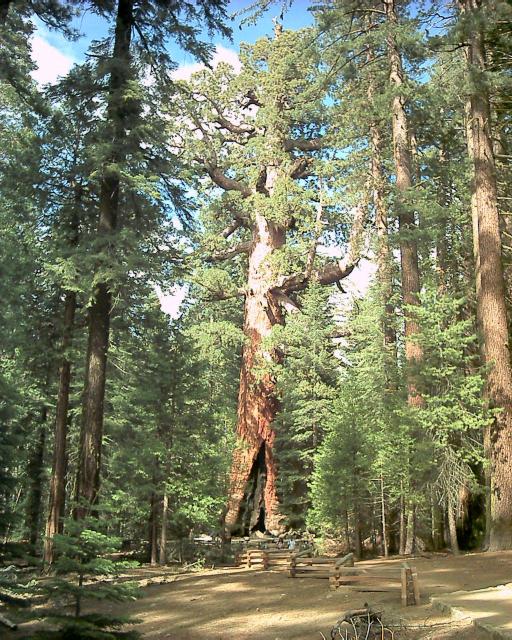 Near here is where they had the tree you could drive through, although that particular tree has died and fallen over. There still was a tree you could walk through: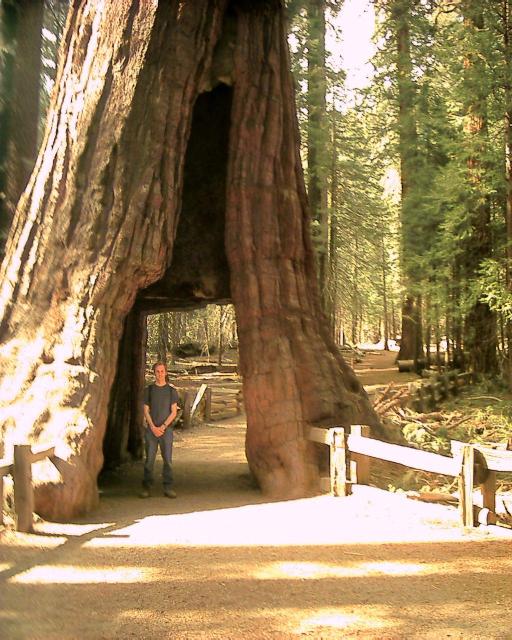 The shuttle up the giant hill the grove was on was not operating, so Kristina and I attempted to walk to the top. It was grueling and after miles and miles and many deceptive signs we gave up and came back. The trees as always were amazing. Here is a paroramic shot of two close together ones:



But now it was time to leave the park. First we got gas, which cost nearly $3, the most expensive of the trip. For those curious, California gas prices are slightly higher than those in New York, which is in turn usually $.25 more than in Maryland.

We left by the Southern entrance, down highway 41. We continued on, past all of the signs saying that not too long ago you weren't permitted on the road without chains on your tires. We drove through Oakhurst, the original home of Sierra Online, the storied video game company.

We caught I-5 in Merced, and drove up through Turlock and Modesto. We were now in the Central Valley, suddenly at sea level again after all of the time in the mountains. The Central Valley is strange, in the middle it looks almost like Kansas, only the distant mountains in both directions let you know you aren't in the Midwest again.

By this time it was late, too late to check into my apartment building. So we stayed overnight in Tracy California.

380 Miles - Arrived Tracy, California

---
Day 6 - 380 Miles Traveled, 4225 Miles Total
---
---
Back to the main trip page