The Invasion of the Inanimate Objects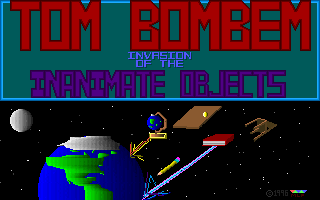 ---
News:
5 January 2010 - started working on tb1 again. Some minor changes, released 2.9.16.
3 March 2003 - again, sorry for lack of updates. See here for related new projects. 2.9.14c was released a long while back to fix tb1 to run on Solaris.
2 June 2001 - released a minor release, version 2.9.14. It includes some minimal joypad support, plus a super-fancy-cool editor for the level2 engine.
Also, I have verified tb1 will compile for windows with the cygwin compiler suite. At some point I'll upload windows binaries.
10 May 2001 - Sorry I haven't had time to work on this recently. Hopefully I will soon. I have a joypad now so I'll add support for that, and hopefully finish up the Level 2 cleaup.
3 November 2000 - TB1 2.9.12 Released!
Re-wrote level 1 engine.
27 October 2000 - TB1 2.9.11 Released!
Minor bugfixes, Makefile improvements.
---
Download:
tb1-2.9.16.tar.gz (350K)

Requires Linux, SDL 1.1.4 or newer, and SDL_Mixer.


---
Documentation:
Here's the README
---
Screenshots:
SCREENSHOTS
---
Story:
You are Tom Bombem, a shy inhabitant of Moon Base Alpha. One day you are summoned to your boss's office, and told disturbing news. Inanimate Objects are infiltrating the solar system! Because of your accidental fumbling, it is now up to you to figure out where they come from, and save the Earth!
---
Old Teaser:
BLOW UP INCOMING INANIMATE OBJECTS!
UNCOVER AN INTERGALACTIC CONSPIRACY!
SAVE THE EARTH FROM DOOM!
AND MOST OF ALL, DON'T SCRATCH YOUR HEAD!

You are Tom Bombem, Earth's last hope. You don't say much, but you are inadvertently thrust into the spotlight when you accidently volunteer to save the Earth from mysterious invaders. Who are they and why are they flining trash in our direction? Play TOM BOMBEM and find out.
---

Other Tom-Bombem Related Projects

Back to VMW Software
---
©VMW Web Design (vince _at_ deater.net) : 5 January 2010