Tom Bombem
The Invasion of the Inanimate Objects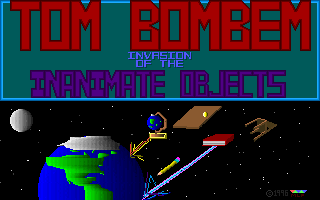 ---
Background:
This is the most recent DOS version of Tom Bombem, from around 1996. This is when I stopped working on the Turbo-Pascal / assembler version and ported to Linux. Levels 1+2 are complete. Levels 3+4 are not done. See here for more recent Tom Bombem news.
---
System Requirements:
386 Processor
VGA card
Soundblaster compatible card if you want sound
---
Download:
Legacy DOS Version:

The Dos Version (2.4a) (works under dosemu): TBV24A.ZIP (174K)

---
Story:
You are Tom Bombem, a shy inhabitant of Moon Base Alpha. One day you are summoned to your boss's office, and told disturbing news. Inanimate Objects are infiltrating the solar system! Because of your accidental fumbling, it is now up to you to figure out where they come from, and save the Earth!
---
Old Teaser:
BLOW UP INCOMING INANIMATE OBJECTS!
UNCOVER AN INTERGALACTIC CONSPIRACY!
SAVE THE EARTH FROM DOOM!
AND MOST OF ALL, DON'T SCRATCH YOUR HEAD!

You are Tom Bombem, Earth's last hope. You don't say much, but you are inadvertently thrust into the spotlight when you accidently volunteer to save the Earth from mysterious invaders. Who are they and why are they flining trash in our direction? Play TOM BOMBEM and find out.


---
Back to the Tom Bombem page
---
©VMW Web Design (vince _at_ deater.net) : 2 June 2001