Northern Trip
1 September 2005 - Thursday
---
0 Miles - Left Duluth Minnesota

We left Duluth semi-early. Here is a picture, with their famous lift bridge in the background:




4 Miles - Arrive Wisconsin

We drove along extreme northern Wisconsin on US 2. This is Lake Superior Lakeshore country, so not much cheese in evidence. The county highways have letters of the alphabet rather than numbers, which got a bit confusing. Not much happened in Wisconsin.

108 Miles - Arrive Michigan

We stopped in Ironwood MI in search of a giant Hiawatha statue (we were by the shores of Gitche Gumee after all) mentioned in the AAA book, but didn't find it and accidentally ended up in Wisconsin again briefly.

We pressed onward. The upper peninsula of Michigan is a lot longer than you'd think. We also lost yet another hour as we finally returned to the Eastern time zone. We took Michigan Route 28 until we got to the Munising area. There we stopped and viewed a few waterfalls in the area. This is Wagner falls: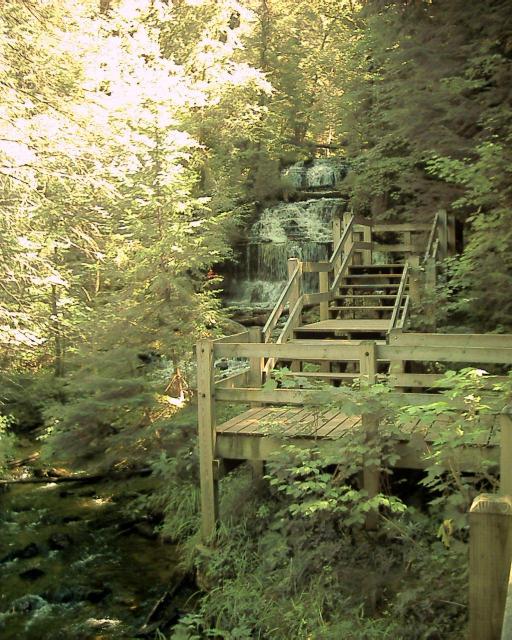 We saw Alger Falls from the car, and then stopped and hiked a bit to see Munising Falls: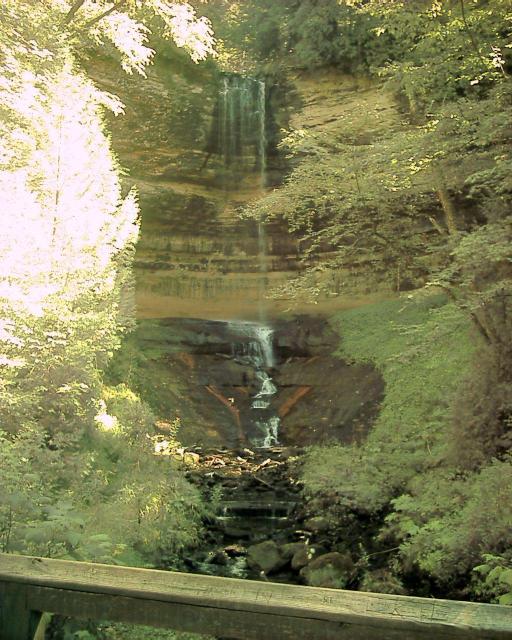 The cliffs these falls are falling over also runs along the coast of Lake Superior, and are famously known as Pictured Rocks National Lakeshore. We stopped here for lunch, and even let Susie out a bit. Here she is in front of Lake Superior: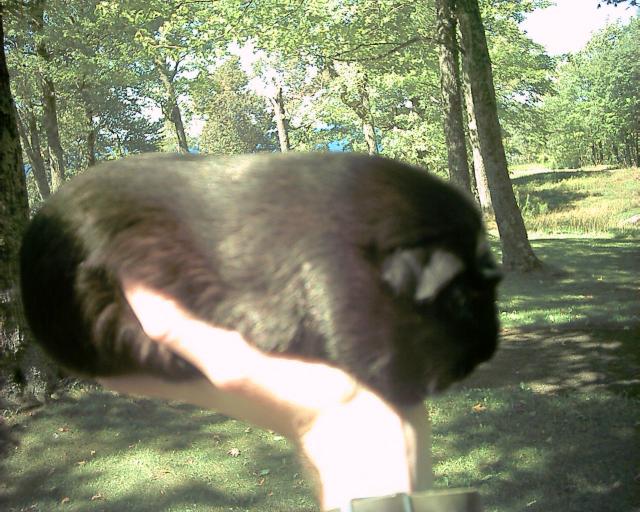 We then walked out to the Miners Castle Overlook. It was beautiful: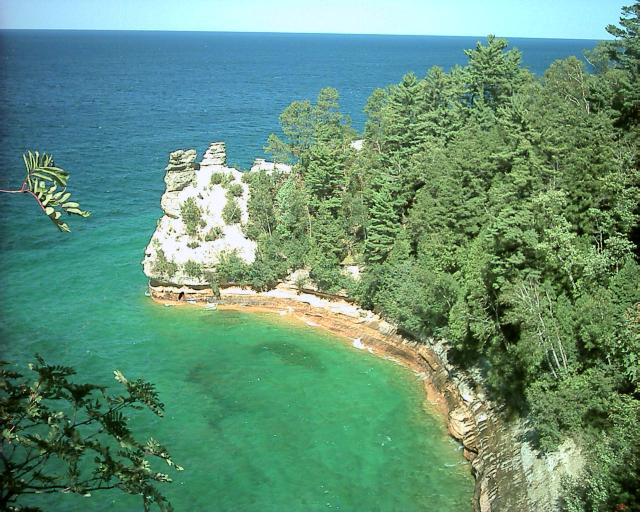 You can actually walk out to the formation; here I am at the end: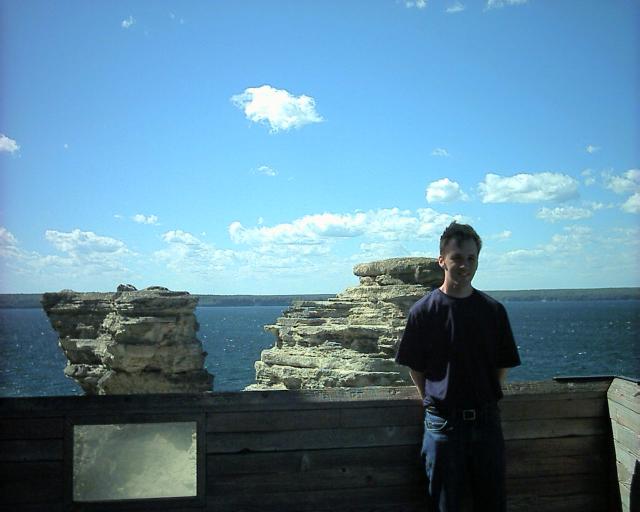 Here's another view of the Pictured Rocks with a tour boat rapidly approaching. The boat honked its horn and everyone waved at us: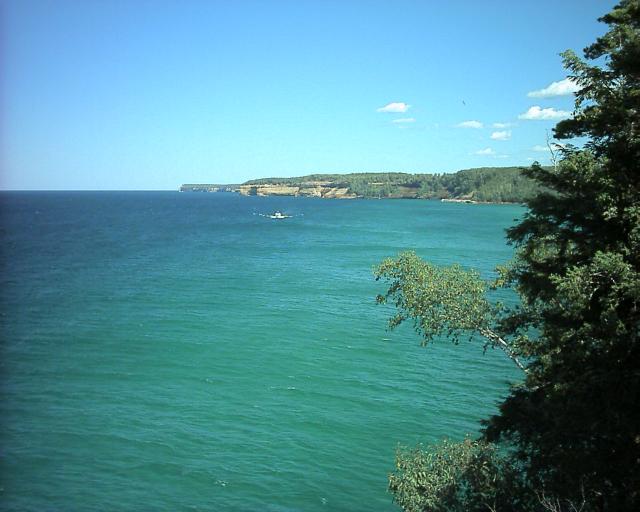 We next walked down a path into the woods. It was pretty, and we got to the Miners River (named because the water was dark and potentially mineral laden, even though no significant mining ever happened. We did pass many other areas where the iron ore trade had blossomed 100 years ago). We came down to Lake Superior and waded in it: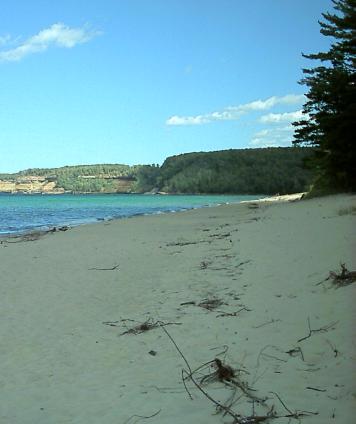 We then hiked back to our car, although we took a longer route than intended due to misreading the map. Then we drove a bit inland and hiked to Miner's Falls. That was also a nice trail, though the overlook at the end was crowded. The reason for the lousy picture is that I was trying to avoid the huge number of other people crowding onto the wooden deck: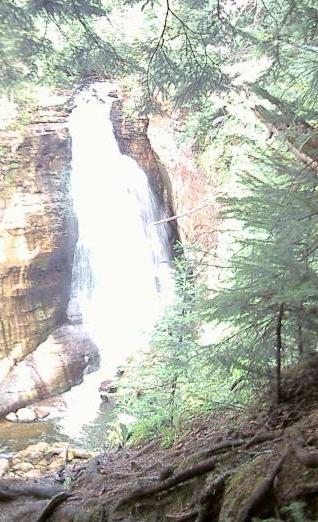 It was getting late and the clouds were rolling in, so we headed back to the highway. Michigan 28 had a lot of construction, but we still made OK time. We then took MI 77 and then got back onto US 2 which scenically followed Lake Michigan. We stopped at a rest area and waded out into the lake:



It was windy and there were some impressive waves in the lake: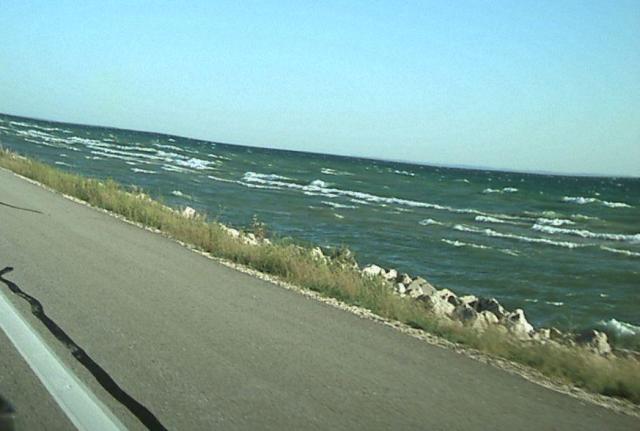 While on the UP we unfortunately didn't stop for any of the advertised treats, such as dried fish or pasties.

Finally we got to the Mackinac Bridge, the largest suspension bridge between anchorages in the Western hemisphere. We got out at a park to view it. We were a few days before the annual bridge walk.




We paid the $2.50 to cross. It wasn't as scary as you'd think, even with the high winds. On the right was lake Michigan and on the left Lake Huron, and we ended up on the lower peninsula.

It was getting late but we still had many miles to go. One of Kristina's mother's friends lives in Saginaw MI, and offered to let us stay at her family's lake house. So we drove down I-75, and then MI-55 to the house south of Tawas City. It was dark by this point, but we found it eventually, aided by the 10 foot tall flamingo out front.

625 Miles - Arrived Tawas City MI
---
Day 6 - 625 Miles Traveled, 3323 Miles Total
---
---
Back to main trip page